Tribute to Oscar Niemeyer
07December
It was with considerable sadness yesterday that I learned about the death of
Oscar Niemeyer
. He was just ten days short of reaching his 105th birthday. Niemeyer has long been somewhat of a personal hero to me - not only as a gifted architect, but also as one of those larger than life personalities who enrich our world. His career spanned spanned almost 80 years, with him still being active and advising on projects until recently.
Although Niemeyer designed many buildings throughout Europe and North America, his most well-known masterpieces are in his native Brazil. These include the Congress, Cathedral, and other major state buildings of
Brasília
.
Brazil's planned capital city was an ambitious and fantastic achievement. Up until then, most of the country's development and economic activity had taken place in a narrow strip along the country's Atlantic coast - or in areas accessible via river systems such as the Amazon and Paraguay/Paraná. By contrast, central Brazil remained an economic backwater, undeveloped and often lawless. The problem was that Brazil began the 20th Century as a feudal society governed by large landowners who exercised near absolute control over the lives of their workers and the local populace (
coronelismo
). Internal rivalry between these interests led to intense (and sometimes armed) political struggles between the Brazilian states - with the most notable conflict being that between the coffee-producers in São Paulo and dairy-producers in Minas Gerais. There were alternate periods of dictatorship and rebellion, and it was evident that Brazil's potential was being wasted. The country saw itself as an off-shoot of Europe rather than considering its own destiny and development. It spent large huge sums on pointless projects such as building a fleet of dreadnought battleships (and triggering an expensive arms race with Argentina and Chile) while development of the interior was ignored. In truth, little in the interior had changed since colonial times.
The country changed dramatically with the rise of
Getúlio Vargas
. He guided Brazil through the Great Depression and World War II, and was responsible for the rise of the middle class, social works, and increased industrialization … but this was still limited primarily to the coastal and southern states. It was the election of
Juscelino Kubitschek
in 1956 which changed this focus - and helped catapult Brazil into the modern age.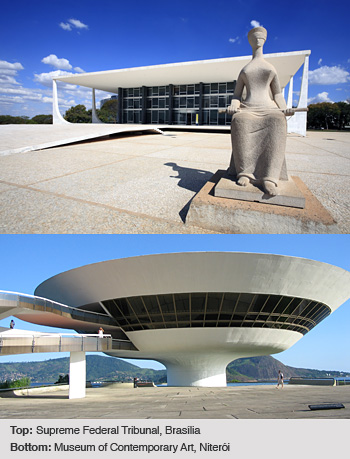 Kubitschek's plan was fifty years of progress in five. At the heart of his plan was the relocation of the capital from the coastal city of Rio de Janeiro to a new planned city (Brasília) in the Brazilian interior. This would ensure that development and progress were brought to the rest of the country - turbocharging the economy with new jobs, access to new resources, and the modernization of Brazilian infrastructure and industry. Brasília was a radical concept - not only for its impact on the interior, but also because it's size, grandeur, and speed of development were the most ambitious yet attempted anywhere. The city's layout was famously set out by its planner, Lúcio Costa, in the shape of a jet plane. This symbolically represented the country's futuristic vision and journey to modernization. The city's residences and commercial districts formed the wings, with government administration buildings along the fuselage - and the combination of executive, judicial and legislative buildings at the cockpit. Oscar Niemeyer was the chief architect - responsible for the capital's most significant structures.
Niemeyer and Kubitschek had already collaborated on developments when Kubitschek had been mayor of Belo Horizonte and, later, governor of Minas Gerais. Niemeyer had also already achieved a level of renown through his involvement designing the United Nations' Headquarters building in New York, and Edifício Copan in São Paulo. As a result, Brasília was filled with buildings embodying Niemeyer's trademark clean and curvaceous designs. Indeed, although Brasília has its flaws, its design and vision of how people of the 1950s and 60s saw their future is still breathtaking (even if a little the worse for wear). It looks more like a
Star Trek
backdrop than a real city, and reputedly caused
Yuri Gagarin
to exclaim that it felt like he was stepping on the surface of another planet. The city is now listed as a UNESCO world heritage site.
After Brasília, Niemeyer went onto design many other now classic buildings - such as the
Niterói Contemporary Art Museum
, the Rio de Janeiro Sambadrome (site of the annual Carnaval), and the
Centro Niemeyer
in Spain. His most recent structure, the
Brasília Digital Television Tower
was inaugurated in April this year.
Photo credits:
Banner images: Brasília Cathedral and National Congress from Shutterstock
Supreme Federal Tribunal building image. ostill/Shutterstock
Niterói Museum of Contemporary Art: Wikipedia (photographer not recorded)

I'm a Business Intelligence and Data Warehousing consultant based in Brisbane, Australia. I've consulted on or managed several large BI systems in New Zealand, Australia and Latin America.
Please use the contact form on this site.
Or phone 04 5704 1640 (Australia)