Diving the Great Barrier Reef
Today I'm in Port Douglas, North Queensland, and realised a long-held ambition to dive the Great Barrier Reef. Thanks heaps to my wife, Rose, for organising it as a birthday surprise - as well as the professional crew on the tourist vessel,
Silversonic
. I'm not much of a swimmer and much less a diver. Becoming a certified diver through PADI is one of those things I thought might be cool to do - but expensive and unlikely to be something I'd keep up in the long term. Nonetheless - I've been curious to try it just once ... and there's no better place to start than Australia's Great Barrier Reef. Guided dives with no experience necessary.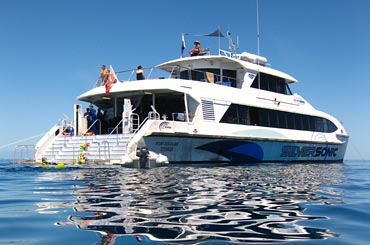 The trip leaves from the marina at Port Douglas at 8.30am, spending around five hours at three different dive sites, and returning at around 4.30pm. The advantage of this tour, as opposed to some of the others which offer diving and snorkelling from a pontoon, is the multiple sites and smaller numbers. There are options to snorkel, with guided dives for first timers (like me), and independent diving for those with PADI certification. The trip out to the reef on the catamaran is fairly smooth. There are a few waves here and there, which turn a small number of passengers green - but for anyone who's experienced the Cook Strait ferry in winter it's really nothing. Nonetheless, Rose, who's prone to motion sickness, has had the fore-thought to take medication and fares well throughout the trip. On the way out, the dive guides run a quick training session for the first time divers - explaining the the basis science in easy to understand terms, and keeping the punters reassured. The key things are knowing the equipment, remember to equalise the pressure in your ears as you go up/down, some basic hand gestures and (most importantly) keep breathing.
The operation is very slick and professional. The boat is comfortable, with a well-equipped dive deck. There is the usual professional photographer taking photos of everyone on their adventure, plus the option for people to hire their own underwater camera or Go-Pro so that they can take their own. Some of these extras add up a little, its not something you do every day, and it's having something extra to preserve the memory and share your experience.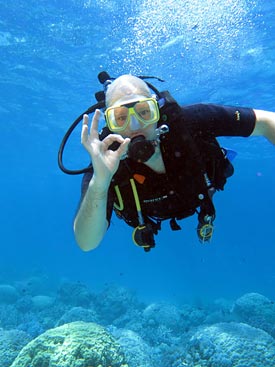 The first dive is a little scary. The water's not cold - but, nonetheless, my heart is racing when finally suited up and I dive in. This makes breathing through the regulator difficult - such that I need to stay on the surface for a few minutes to settle down. That's fine - the guide has got several more people to look after and is re-running through the basics, so there's no rush. Plus there's an anchored rope for us to hang onto next to the boat, which means we don't need to swim or go under straight away. Fortunately, Before long, I'm breathing normally again and ready to go. The weights counter your buoyancy - making you essentially weightless in the water, meaning you can go up and down with relative ease. However, the experience is a little disorienting, and there are lots of things to remember, so I can see why the dive guides don't let you take a camera on the first dive down. Fortunately, the dive guides are well-experienced with novices like me - keeping a close eye on everyone, checking their air tank gauges, and occasionally pulling divers back if they get into trouble or stray too far. All the while, they lead the group on a tour of the corals - pointing out formations, plants and fish. Although verbal communication is impossible, a lot still gets achieved through gestures.
The first dive lasts about 30 minutes, which passes quickly. Nonetheless, its long enough to observe several different types of coral formation, parrot fish, clown fish, barracuda, wrasse, and trevally. I miss out on the second dive spot, as the guide is taking another group, so I opt to go snorkelling instead - taking the underwater camera so I can try getting a few images of Rose for her Facebook profile. Even though I can't go as deep as I did while diving, the second dive spot appears even richer than the first - providing great view of more coral formations and more fish. Finally, at our third spot, I signed up for a further dive. My second time around was a bit easier - plus I was able to take the camera with me to try getting some images of my own.
Overall, diving on the reef is a fantastic experience and highly recommended if you ever get the opportunity. Now that I'm living in Australia, it makes sense to take advantage of the wonders available here.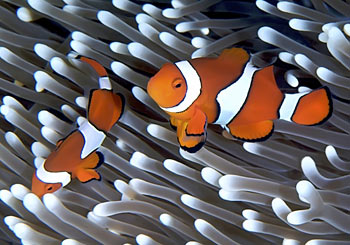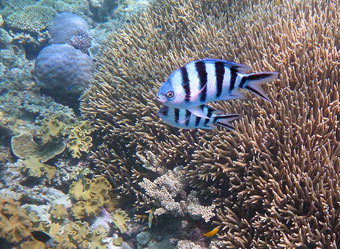 Banner image: Shutterstock/Vlad61;
Silversonic vessel: supplied; Clown fish: Shutterstock/MelissaF84



I'm a Business Intelligence and Data Warehousing consultant based in Brisbane, Australia. I've consulted on or managed several large BI systems in New Zealand, Australia and Latin America.
Please use the contact form on this site.
Or phone 04 5704 1640 (Australia)