Whitewater Rafting in Cairns
7October
Today I had a wonderful experience whitewater rafting with the nice folks from
Raging Thunder
along the Barron Gorge here in Cairns. It was my beautiful wife's plan to do something special on the last day of our holiday. Not being the outdoorsy type she was actually quite petrified thinking that it was going to be dangerous and frightening - however it turned out be the most fun we'd both had in ages. Now she wants to go back and do it again. My highest compliments go to the Raging Thunder team, and our guide Rob, for such a professionally organised trip and for their good humour along the way.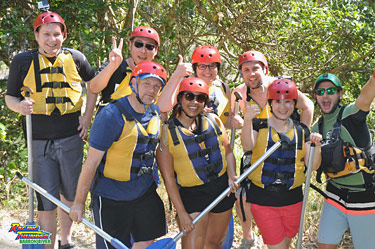 Barron Gorge is a series of class 3 rapids - meaning that's its fun, but not big enough to be scary or too technical. Its ideal for tour groups and novices like me. Nonetheless, we still need to take basic precautions so helmets and life jackets are a must. Aside from helping us if we accidentally fall out, the straps on the life jackets act as handles to help pull people back into the raft. Rob, our guide, selects a "volunteer" to demonstrate the two-step procedure of (1) dunking the person further under as punishment for being stupid enough to fall out, and (2) leverage the buoyancy spring effect to help them literally pop out of the water and back into the boat. The life jackets also allow us to dive overboard in a calm stretch midway along the journey, floating alongside the raft for a while. Fortunately, the water is very pleasant and there are no big reptilian nasties in this part of the river. Aside from the safety equipment, there are other lessons instructing us to take care how we handle the paddles (lest we knock someones teeth out), and the verbal commands we're expected to follow as we descend the rapids. These are essentially just paddling instructions, shifting our weight hard left or hard right, and huddling down in the centre of the raft.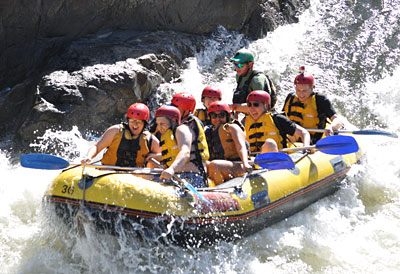 Suitably prepared, we set off. The initial rapid is scariest mostly just because we don't know what to expect. However, with that out of the way, everyone's soon having a great time. Luckily there's always a good stretch of nice calm water in between each rapid so we can catch our breath. All up the experience lasts a little over two hours - which seems quicker than expected. Before long we've gone through all the rapids and have arrived on a calm stretch of river below a caravan park where there's a comfortable changing area to get back into some dry clothes along with a welcome cup of tea or coffee. There's also an opportunity to buy a (reasonably priced) USB memory stick containing images taken by the group's professional photographer who's run along the riverbanks, perching on the rocks to take photos of us and our screaming as we passed by.
All up, a fantastic experience. Lots of fun, professional and organised. As for the wife who was absolutely petrified before the rafting and considering chickening out ... well, she wants to go back again and try the full day Tully River experience. Thanks heaps to Raging Thunder for the great experience.
Photo credits: Images of our trip by Raging Thunder 's photographer